FM-Song
Create musics for your QBasic games
Créez de musiques pour vos jeux vidéo QBasic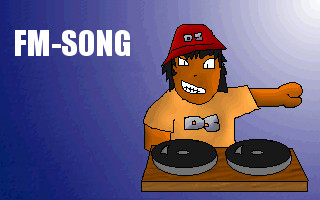 English: FM-Song is a DOS software for creating music that is user-friendly. It is especially designed for creating QBasic video games music, because you can use the FM-Lib library to incorporate your music into your QBasic program. From a technical perspective, FM-Song can play up to 8 musical instruments at once, and you can choose from over 76 different instruments to create your perfect sound. If you wish to see FM-Song and FM-Lib in action, you can download MisterKid, a game whose music was made using FM-Song. With this demo, you can experience the quality of FM-Song's sound (For a MS-DOS program) and its effectiveness in creating music for video games.
Français: FM-Song est un logiciel DOS convivial et intuitif, qui permet de créer des musiques. FM-Song peut jouer jusqu'à huit instruments de musique simultanément et offre plus de 76 instruments différents à votre disposition (Piano, flute...). pour enrichir votre composition. FmSong et Fm-Lib sont fonctionnent avec la carte son compatible avec Sound Blaster. FM-Song peut être émulé avec Dosbox dans des ordinateurs récents. FM-Song vous offre la possibilité d'utiliser vos musiques dans vos programmes QBasic grâce à la bibliothèque logicielle Fm-Lib (incluse avec FmSong). Vous pouvez utiliser FM-Song pour ajouter une bande son personnalisée à vos jeux vidéo ou pour créer des morceaux de musique originaux pour vos projets créatifs. Avec FmLib, vous avez la possibilité de charger vos musiques *.fms dans votre programme QBasic. La librairie Fmlib joue la musique en arrière-plan (elle ne ralentit pas votre programme).
Download FM-Song / Télécharger FM-Song:

English: Includes the tracker software, the Fm-Lib library, an instrument editor, 76 musical instruments et 75 musics (*.fms).
Français: Inclue le logiciel de création de musique FMS, ) la dernière version de la librairie Fm-Lib, un logiciel d'édition d'instruments, 76 instruments de musique et 75 musiques FMS.
Watch: FM-Song Music - DOS Software Tracker written in Quick Basic - Retro Music
This video will allow you to see FM-Song in action:

Link to the video: FM-Song Music - DOS Music Tracker Software written in Quick Basic - FmSong QBasic Retro Music)

FM-Song is a DOS Music Tracker Software for creating music that is user-friendly. FmSong is especially designed for Quick Basic DOS video games because you can use the FM-Lib library to incorporate your FmSong music into your QBasic games. Nowadays, FMSong can be used to create music for retro QBasic indie games.

From a technical perspective, FM-Song can play up to 8 musical instruments at once, and you can choose from over 70 different instruments to create your perfect sound. This video will allow you to see FM-Song in action!

(FM-Song can be emulated on Windows, Linux, and Mac OS X using DOSBOX or DOSBOX-X)