MisterKid
Un jeu de plateforme qui vous transportera dans une aventure colorée et palpitante!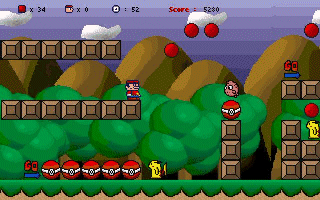 English description:
Mister Kid is a side-scrolling platform game that will transport you to a colorful and thrilling adventure through 12 levels and 5 worlds. With each level, you will encounter new obstacles, enemies, and challenges that will test your skills and wits. From the forest to the world of sand, you will need to keep your eyes peeled and stay focused if you want to succeed.

Description en Français:
Mister Kid est un jeu de plateforme très apprécié par beaucoup de programmeurs QBasic, qui vous transportera dans une aventure colorée et palpitante à travers 12 niveaux et 5 mondes. Le jeu reprend les même principes de Mario, mais avec un défi que vous adorerez ! A chaque niveau, vous rencontrerez de nouveaux obstacles, ennemis et défis qui mettront à l'épreuve vos compétences et votre intelligence. De la forêt au monde de sable, vous devrez garder l'oeil ouvert rester concentré si vous voulez réussir. Mister Kid est paru dans les pages BestOF du magazine Freelog et dans Vplanet. Cela m'a fait plaisir de lire les article sur Mister Kid et m'a encouragé à en faire encore plus!



Download Mister Kid | Télecharger Mister Kid

English:
Unzip misterkid.zip in a new directory and then execute "mk.exe".

Controls: Press Left and Right to move the character and ALT to jump.

Play MisterKid on Windows, Linux, or Mac OS X: It can be played with the DOS emulator DOSBOX (available on Windows, Linux, and Mac OS X). It is recommended to change Dosbox CPU cycles to max by modifying the following option in the configuration file "~/.dosbox/dosbox*.conf":

[cpu]
cycles=max


Francais: Dézippez misterkid.zip dans un nouveau répertoire puis exécutez "mk.exe". Appuyez sur la touche gauche et droite pour déplacer le personnage et ALT pour sauter.


Watch a Video: Mister Kid - DOS Platform Game - Full Game Walkthrough No Commentary (Gameplay, Playthrough)
(Link to the video: Mister Kid - DOS Platform Game - Full Game Walkthrough No Commentary)
English: For those interested in watching a full walkthrough with no commentary for the platform game Mister Kid, you can check out the video above. This will allow you to fully experience the game's visuals and sounds without any distractions or interuptions. Watching the complete game walkthrough can also help you learn new strategies and techniques to overcome the game's difficulty, because Mister Kid is a challenging game!
IMPORTANT: Completing Mister Kid can take a significant amount of time, ranging from 1 hour to 5 hours, factoring in potential game overs due to its difficulty level. This video provides a brief overview of the game, without including the time it may take for the player to learn and master each level.
Français: Comme le jeu Mister Kid est connu pour être difficile, regarder une vidéo complète du gameplay sans commentaire peut vous aider à apprendre de nouvelles stratégies et techniques pour surmonter la difficulté du jeu. En observant comment un joueur expérimenté navigue à travers chaque niveau et surmonte les obstacles du jeu, vous pouvez obtenir des informations sur la façon d'améliorer votre propre gameplay. Profitez de la vidéo et bonne chance !